Metal coating online now at affordable prices. Quality Service with Dependability
Ever-Nu Metal Products Co., Inc. was one of the first in the country to deploy an automatic electrostatic coating system, over sixty years ago.
Our Powder coating clients are nationwide, representing the display, building, cosmetic, automotive, security, outdoor furniture and railing industries.
In 2003, Ever-Nu completed a two-year renovation and installed all new state of the art equipment, giving us the capabilities of coating products 8' high by 15' long automatically. We have 2 fully automatic systems plus a custom batch booth and oven.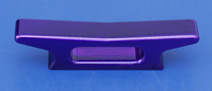 In 2004 Launched a fully operational batch over with the capabilities of curing products up to 15 feet in length. 'Powder coating online now. Learn more...
Set for the Future - 2009 and Beyond

SandBlasting!!! This is our newest technology and it serves our market well. Residential, Commercial Building Owners, Contractors, Professional contracting Associations and Jobber all benefit from sand blasting. The new process is designed to work with items that clearly call for more detail and delicate attention while at the same time requiring a higher quality of workmanship! Go to our sandblasting page and Learn more...